Other blogs in this series:
What Cognos refers to as the "Save a Copy of Report Output Outside of IBM Cognos Software" is actually the ability to save individual report outputs or burst report outputs selectively to the file system.
Notes:
This option (and its configuration parameters) are entirely independent of those for the Save All Report Outputs to File System option.
It is highly recommended to read the related blogs "Overview" and "Save All Report Outputs to the File System" to understand all the options and which configuraiton steps work with which feature.
Configuration

In Cognos Configuration use the Menu item Actions -> Edit Global Configuration – > [Tab] General -> [Property] Archive Location File System Root: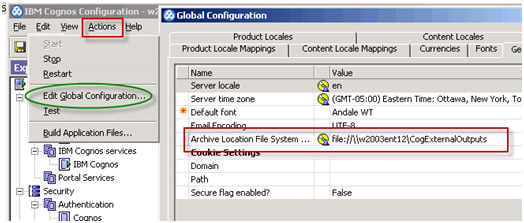 Do not be confused by the wording used here. "Archive Location File System" is NOT referring to the setting for archiving/save all report outputs to the file system.  This is the setting ONLY for the feature to save report outputs as part of the Save options in the run with options or schedule.
 The format for the file root is one of the following
Once the root folder is set, go to Cognos Connection Administration – > Configuration -> Dispatchers and Services -> Define File System Locations: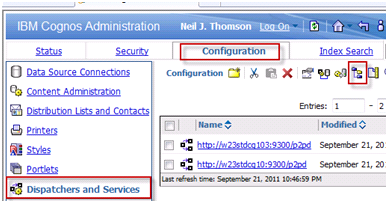 It is possible to specify multiple sub-folders… one is defined as shown below (WinFolder2)

You need to specify a name as will appear in the drop down for the user to select when specifying "save to file location" in the advanced run options and the name of the sub-folder (which can also be a sub-sub folder) in the file system.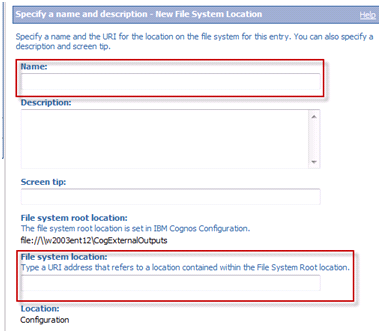 As with any other Cognos object, the permissions to use these "sub-folders" can be controlled for Cognos users, groups and roles. Note that the permissions for the sub-folder in the operating system will also need to be set (for who can read or write).
Saving Report Outputs

When a user goes to run or schedule a report and the select "save report output" and then select advanced options they will now see a save to the File system option:

The options available are: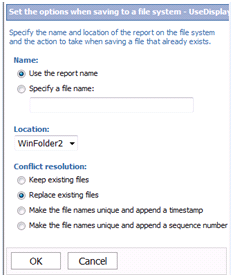 Notes:
Multiple report output types can be specified
Burst report outputs are also supported
This capability is enabled for all users. There is no mechanism to selectively allow users to save to the file system.
In this mode, file names are constructed using the report name (or specified filename as listed above), plus the conflict resolution options, plus the language of the selected locale, plus the output extension.
Examples:
Individual file – UseDisplayProd_NoParams-en-ca.pdf
Burst File – BurstSample-en-us-Anders Nilsson.pdf
Note that this includes the burst key/label (Anders Nilsson)